A. Introduction
WSBE17 Hong Kong - International Youth Competition invites imaginative ideas, projects and action plans that best demonstrate an innovative interpretation of the Conference theme "Transforming Our Built Environment through Innovation and Integration: Putting Ideas into Action" and the key discussion areas: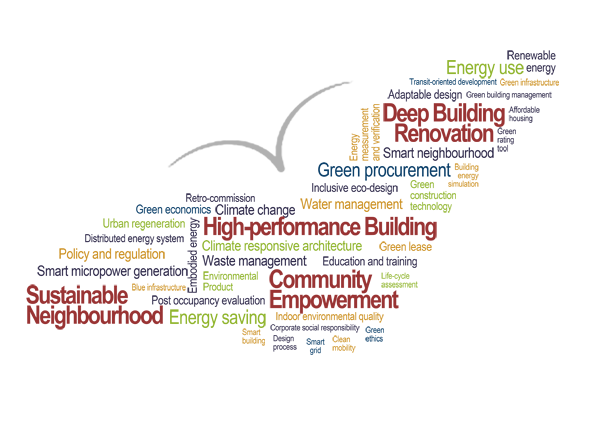 WSBE17 Hong Kong is the best platform to be seen and to be recognised! All shortlisted teams will:
Display their brilliant ideas at WSBE17 Hong Kong

Be known to over 1,800 global industry experts

Present in front of a panel of internationally acclaimed judges

Win a cash prize of HK$10,000 and 2 Conference Tickets
B. Eligibility
The Competition is open internationally to multidisciplinary teams meeting the following requirements.

Age:
30 or below

Team Formation Criteria:
Each team must consist of:
At least 2 full-time tertiary students who study in sustainable built environment-related disciplines, e.g. Architecture/ Engineering/ Green Building Studies/ Building Technology/ Urban Planning and Design/ Landscape/ Surveying, etc., AND

At least 2 team members from other subjects such as natural sciences, social sciences, economics, medicine, etc.
Team Size:
(Each team can invite 1 consultant as team counsel to provide professional advice.)
Remarks:
All members must be identified in the online registration form. A team leader must be designated. S/he is the team's sole representative to complete the registration online and liaise with the Competition Organiser.

All members in the team are regarded as co-authors of the submission. They will be acknowledged as such in all announcements, displays, exhibitions and other materials related to the competition, in the order in which their details are listed in the registration form.
C. Shortlisted Teams
We are thrilled to receive around 100 entries from 25 countries from all over the world. After multiple rounds of judging and deliberation, the following 8 entries have been shortlisted:
The Most Innovative Module Design Award

Adaptive Integrated Module

Semen Bondarenko, Saint-Petersburg Polytechnic University, Russia

Marsel Gimnazdinov, Russian Academy of Fine Arts, Russia

Anastasia Elizarova, Russian Academy of Fine Arts, Russia

Vasilii Potapov, Russian Academy of Fine Arts, Russia

Aleksei Lavrukhin, Russian Academy of Fine Arts, Russia

Daria Likhaia, Saint-Petersburg Polytechnic University, Russia

Alena Amelkovic, Russian Academy of Fine Arts, Russia

Anna Kutilina, Russian Academy of Fine Arts, Russia

Entry Summary

Adaptive environment is one of the development keys to harmonic and successful society. Future architecture is going to become more flexible in consideration of the interests of every single citizen. Thus, modular architecture is the future. Firstly, it can create interesting ensembles, matching the existing architecture. Secondly, modular architecture may improve destroyed and abandoned city districts, transforming them to the new social centers. And finally, this architecture is able to generate own unique compositions: green and ergonomic, bright and beautiful. All of this points can be achieved by simple modules, adapted to us – complex and extraordinary creations.

Citation by Deborah KUH

Very comprehensive studies across scale; sectors; territory; initiatives. Ideas are innovative, ambitious and refreshingly plausible. This scheme delivers a holistic approach to sustainability of the built environment regardless of whether it is on land, water or outer space.

The Best 'Living' Building Award

C3 Farming

Luyao Xiang, The Chinese University of Hong Kong, Hong Kong SAR

Ran Wang, The Chinese University of Hong Kong, Hong Kong SAR

Dan Wang, The Chinese University of Hong Kong, Hong Kong SAR

Waipo Tse, The Hong Kong University of Science and Technology, Hong Kong SAR

Pakshing Yeung, The Hong Kong University of Science and Technology, Hong Kong SAR

Entry Summary

Because of high-density urban morphology and scarce land resources in Hong Kong, 94% agricultural products are imported from other countries, which leads to food security concerns. The main concept of this project is to insert vertical farming structure in high-rise high-density areas in order to increase arable land. Through establishing a comprehensive urban vertical farming community, the project fulfills the target of sustainable neighborhood, in terms of ecological cycle, economy cycle and social cycle (C3). Natural resources, such as rainfall, flying and plants, are combined with social economy and social communications to enhance green economics, water management and inclusive eco-design.

Citation by Christine LOH

This submission is presented in an attractive and immediately understandable manner to show an urban vertical farming system in high-rise buildings. As the competition involves displaying the entry, it is essential that the submission is visually attractive and clear in presenting its ideas. This submission satisfies this important criterion.

Beyond visual attractiveness, the substance of the ideas behind this submission is also important. The submission shows the team attempted to take an integrated approach to consider many aspects that could be designed into a high-rise urban farming project. The team has successfully brought together a range of positive outcomes. Such a project if implemented could show that buildings could be like 'living' organisms. Good design that takes into account ecology, human behavior and economic benefits could provide a platform for holistic functionality that achieves sustainability.


This submission shows an appreciation for the human element in such a project. Not only could the high-rises be designed in a way that performs well ecologically (such as green building features to capture rainfall and use of grey water) but also that the food grown could be processed, stored and sold/used on site to reduce carbon footprint. The
food waste could also be recycled. The visual shows an understanding that thought could also go into what to plant to optimize ecological, economic and social (including food safety and job creation) outcomes. The submission recognizes urban farming and planting could improve physical and mental health of humans; and that the whole project could bring about many visual/aesthetics benefits, and out-indoor activities that could be enjoyed by the occupants and visitors to the building.

The Most Holistic Super-High-Dense Neighbourhood Award

Kowloon City Castle 2.0

Hei Yan Lee, City University of Hong Kong, Hong Kong SAR

Tsz Ying Agnes Chan, Arup HK, Hong Kong SAR

Wing Tung Rainy Cheung, Code International, Hong Kong SAR

Wa Yan Yvonne Lei, Meinhardt, Hong Kong SAR

Katsuya Obara, Arup HK, Hong Kong SAR

Wai Sze Wincy Wan, Arup HK, Hong Kong SAR

Chun Kit Jack Wong, Onwards Media HK Ltd, Hong Kong SAR

Chun Yeung Kayden Van, City University of Hong Kong, Hong Kong SAR

Entry Summary

The proposed sustainable neighbourhood aims at enhancing the quality of life for residents with reference to the Kowloon City Castle. The building structure was designed with flexibility for occupants' use, while recreational areas were bridged to different locations to connect people; imitating the rooftop in Kowloon City Castle, where neighbours gathered and played. Besides the building structure, the urban stream and greenery also encourages people to spend more time outdoor and cycle around the neighbourhood. Renewable energy system and passive sustainable designs were integrated with the state-of-the-art technology. We want to create a neighbourhood where people enjoy staying here.

Citation by Thomas AUER

The Kowloon castle project is introducing the use of renewable resources into the extreme dense neighborhood of Kowloon while at the same time the proposed design strategies improve the quality of live by optimizing environmental quality. Thus it has a strong social component.

The Most Innovative Urban Sustainability Award

Long for Sustainability

Chun Yin Yap, City University of Hong Kong, Hong Kong SAR

Yew Yuen James Khong, City University of Hong Kong, Hong Kong SAR

Jing Fang Calvin Gan, City University of Hong Kong, Hong Kong SAR

Hao Ming Ling, Ryerson University, Canada

Hing Lok Joanne Lee, University of Technology Sydney, Australia

Tsz Tung Wong, Chinese University of Hong Kong, Hong Kong SAR

Chun Hong Leung, The University of Hong Kong, Hong Kong SAR

Yip Lim Wang, The University of Hong Kong, Hong Kong SAR

Entry Summary

The objective of our project is to promote sustainable neighborhoods and to enhance the quality of our built environment.

Our proposal includes a footbridge network which integrates different renewable energy systems to help reach energy-saving target in Hong Kong as well as to demonstrate an efficient water management system. The green compartment of the bridge is also a climate responsive architecture to reduce carbon emission through greening and obtaining sustainable neighbourhood.

The bridge is totally a high-performance building with multi-functional reconcile social relationship in harmonious way. Our goal is to enlarge the footbridge system scale and extend the concept to other regions.

Citation by Peter GUTHRIE

This is an exciting proposal which has several dimensions which all relate to sustainability. The concept of an elevated walkway through the city is exciting and similar to the Highline in NY. The team has taken the opportunity to introduce all sorts of environmental measures, which are credible and deliverable. The presentation is clear and attractive and makes the proposal seem very convincing.

The Best Sustainable Rehabilitation of Heritage Area Award

Preserve and Update

Kai Zhou, Suzhou University of Science and Technology, Mainland China

Ying Li, Beijing Normal University, Mainland China

Xintong Wu, Soochow University, Mainland China

Hongyi Chen, Suzhou University of Science and Technology, Mainland China

Qi Song, Suzhou University of Science and Technology, Mainland China

Zhang Mengyuan, Suzhou University of Science and Technology, Mainland China

Entry Summary

After we looked into ancient area in Suzhou, we find many problems, for example, it is hard to meet the daily life's need and so on. We want to transfer the built area by using passive-form energy efficiency methods. What is more, local characteristic is also taken into consideration. We use a complex near the Pingjiang Road which is a famous ally in Suzhou as an example.

Citation by Serge SALAT

The team proposes to understand the state of a specific urban forms based on the material layers that constitute and proposes its transformation for rehabilitation. The understanding of the urban fabric in its relationship to the environment affording a better grasp of urban structures and morphology and an efficient sustainable approach into ancient area.


The team rely on a solid methodological basis and a preliminary identification of the morphological criteria providing a basis to the analysis of elements that structure the area and have an impact on its metabolism, give us a better understanding of its sustainable development.


Observe the complexity of fabrics, the characteristics of the structures and their variability with regard to the human and social criteria constitute a real imperative of sustainable development.

The Most Integrative Waste-Energy System for Buildings Award

The Application of Building Integrated Energy System in Hong Kong: SOFC-Based Multi-Generation Using Bio-gas from Waste

Qiancheng Wang, The Hong Kong Polytechnic University, Hong Kong SAR

Valeria Isabel Alvarado Roman, The Hong Kong Polytechnic University, Hong Kong SAR

Yichen Pan, Xi'an University of Architecture and Technology, Mainland China

Haihua Hu, The Hong Kong Polytechnic University, Hong Kong SAR

Weicong Qin, The Hong Kong Polytechnic University, Hong Kong SAR

Bin Chen, The Hong Kong Polytechnic University, Hong Kong SAR

Qinyu Jiang, The Hong Kong Polytechnic University, Hong Kong SAR

Qizhen Zhu, Xi'an Jiaotong University, Mainland China

Entry Summary

The building integrated energy system (BIES) is an energy management system that combines the advantages of a distributed waste treatment (DWT) with a solid oxide fuel cell (SOFC)-based tri-generation system. The DWT relies on co-digestion of organic waste to produce methane-rich biogas, which can be then used by the SOFC-based tri-generation system for electrochemical power generation and waste-heat recovery achieving 70-95% energy efficiency. Even though the biogas has to be complemented with town gas as input fuels, the reduction of organic waste being disposed to landfills represents an interesting option for Hong Kong as a city with limited space. In addition, government subsidies could represent affordable payback periods for the system.

Citation by George BAIRD

The authors of this submission have made a convincing and solidly referenced case for their innovative Building Integrated Energy System (BIES). The proposed system integrates
Distributed Waste Treatment (DWT) with a Solid Oxide Fuel Cell (SOFC)-based tri-generation system. Food waste and sewage sludge from the DWT system are anaerobically codigested to produce a methane rich biogas.


Following purification, this gas is supplied to the SOFC-based tri-generation system designed to produce electricity and domestic hot water, and power absorption refrigeration. The outcome is a reduction in the amount of waste and sludge going to landfills and for central sewage treatment, and a highly efficient building energy system.

The BIES represents a win-win for Hong Kong, but also has the potential for application in other densely populated urban centres worldwide. Truly, a system that has the potential to transform our built environment.

The Most Culturally Sensitive Concept Award

The Green - Blue City - Amazon Referent

José Fernando Estrella Cadena, Universidad de las Américas, Ecuador

Arlet Rocio Zamora Leverone, Universidad de las Américas, Ecuador

Paula Roxette Suasnavas Morales, Universidad de las Américas, Ecuador

Andrea Samantha Orellana Constante, Universidad de las Américas, Ecuador

Gustavo Antonio Carrasco Pazmiño, Universidad de las Américas, Ecuador

Edelvis Mónica Álvarez Cadena, Universidad de las Fuerzas Armadas, Ecuador

Nicolás Alejandro Gallegos Santos, Universidad de las Américas, Ecuador

Diego Javier Gortaire Cadena, Universidad Internacional del Ecuador, Ecuador

Entry Summary

Being a project that is in immediate contact between three rivers and the city, it can be seen from an essentially landscape and environmental angle for a new Amazon Referent and Green-Blue City; Where the image of the city integrates with the rivers, and achieves by combining and protecting the hydrological and ecological values of the urban and natural landscape, the flexible and adaptable measures to cope with future changes of the place; Establishing High-performance buildings with adaptable designs for a Community Empowerment, creating Smart and Sustainable Neighborhoods with a new Housing Typology for the Amazon and a network of facilities equipment for the city.

Citation by Arno SCHLUETER

Merits:

• Multi-scale, holistic approach for settlements in the very sensible Amazon rainforest; this responds to increasing urbanization and housing pressure and tries to find a solution towards co-existence of man and nature

• Problem definition and solutions across a wide range of scales, from territorial to building materials

• Addresses a wide range of domains, from (natural) infrastructure to mobility and education

• Precise and thorough analysis of both, the specific properties of nature / ecology in the amazon region as well as settlement / growth models as base for formulating the response

• Excellent presentation of the idea with compelling visualizations

Comments:

• The density of the proposed structures is low, therefore this might not be enough to reduce urbanization pressure

The Most Innovative Urban Assessment Concept Award

Urban Framework

Tjark Gall, Technical University Brunswick, Germany

Jan Hitzegrad, Technical University Brunswick, Germany

Sven Hemminghaus, Technical University Brunswick, Germany

Goeran Gunnar Gallandt, Technical University Brunswick, Germany

Entry Summary

The fastest urban growth happens mostly in the global south, where many countries lack resources to counteract the negative side-effects. We attempt to simplify this complexity of planning, therefore combining three main aspects into our proposal: 1) an indicator-based sustainability assessment with focus on the economic, environmental, social, and governmental dimension, to guarantee a data-oriented basis. 2) the application in spatial environments to study outcomes of interferences in urban areas. 3) the simulation of scenarios and development opportunities to support the decision-making process of planning authorities. We will show our objectives in examples of Hong Kong, Lilongwe and Mexico City.

Citation by Greg FOLIENTE

This multidisciplinary team has developed a sound and systematic framework for planning and assessing the potential triple-bottom-line merits and/or impacts of key exogenous and endogenous drivers of change (i.e. any combination of socio-demographic, technology, planning/design scheme, policy, disasters, etc) in complex urban environments. Its importance will only grow in time, as the type, volume and velocity of data/info streams increase with urbanisation rates, and climate and related environmental hazards continue to change.
D. Honourable Mention
A Feasibility Study Adopting BIM Technology on Implementing Sustainable and Innovative Technologies for Tong Lau's Rehabilitation Work

Pei Wu, The Hong Kong Polytechnic University, Hong Kong SAR

Chuanrui Yu, The Hong Kong Polytechnic University, Hong Kong SAR

Jueqi Chen, The Hong Kong Polytechnic University, Hong Kong SAR

Yining Hong, The Hong Kong Polytechnic University, Hong Kong SAR

Zhiyu Bai, The Hong Kong Polytechnic University, Hong Kong SAR

Dongyang Wei, The Hong Kong Polytechnic University, Hong Kong SAR

Yixiao Sun, The Hong Kong Polytechnic University, Hong Kong SAR

Our group's research focuses on the feasibility of applying green building technologies to Tong Lau's rehabilitation work, aiming to increase the overall built environment in HK. The whole research is based on BIM technology which simulates the situation and scenario locally. To examine the feasibility, both energy saving performance and economic return is analyzed and results show that such rehabilitation has the potential to promote and apply to different communities in HK. Thus, the whole research closely underpins the originality and practicability, which gives real-life example of individual building and attempts to transform old Tong Lau community into sustainable built environment.

Biobridge: Rethinking Urban Space by Using Microalgae

Andriel Evandro Fenner, University of Florida, USA

Hashem Izadi Moud, University of Florida, USA

Ade Fadli, University of Florida, USA

Mohamad Ahmadzade Razkenari, University of Florida, USA

Hamed Hakim, University of Florida, USA

Ruan Santos de Oliveira, University of Florida, USA

The Depot Park in Gainesville, Florida is a urban space project located in the proximity of a large CO2 emitters, John R. Kelly Power Plant, a concrete ready mix plant, and the Depot Park stormwater park facility. By using emissions from the industrial plants and the stormwater as sources of nutrition, the project plans to cultivate microalgae in modular elements and deliver biomass to the community. The result is a sustainable design that purifies water, produces clean energy from biomass, reduces CO2 emissions, creates local jobs, and educates the community about the realities of climate change.

Dynamic Balance

Mehta Vardhan, Pratt Institute, USA

Gupta Shaguni, Syracuse University, USA

Chen Xiangru, Syracuse University, USA

Dalal Anvi, University of Pennsylvania, USA

Bindal Adarsh Bindal, Emory University, USA

Dynamic Balance is an urban conceptual framework proposal which aims at resolving the housing pressure on the city of Mumbai through an evolutionary process of introducing a hierarchy of multiple centers in the form of sustainable eco-island networks. We are proposing an urban model, not just limited to the scale of the city, region or home, but a group of design principles employing applied technology to form an integrated community design.

With the population of Mumbai speculated to reach 42 million, the efficiency of the Dynamic Balance model could reduce a household's dependency on high-frequency urban living. This would open up a new wave of semi-urban eco-island neighborhoods, allowing a more sustainably distributed density of people across the territory. The goal is to achieve a state of primordial equilibrium by expanding the nodes of the city to bring housing closer to amenities.

Ecodome Maroc

Youness Ouazri, Ecole Hassania, Morocco

Mustapha El Bahraoui, Ecole Hassania, Morocco

Sarah El Aïch, Ecole Nationale d'Architecture, Morocco

Ahlam Sebti, Ecole Nationale d'Architecture, Morocco

Ecodome Maroc is an enterprise that operates in building ecological locals based on rammed earth in the shape of domes. We are using this innovative concept to target:

Housing problem in Morocco

Eco tourism in rural areas

Ecodome creates also a source of income for people in need by teaching them the know-how of the concept. Our construction teams are basically locals of the region we are operating and who don't have a stable source of income.

Riverside Re:hale

Muhammad Hardyan Prastyanto, Islamic University of Indonesia, Indonesia

Nizar Caraka Trihanasia, Islamic University of Indonesia, Indonesia

Yushna Septian Adyarta, Islamic University of Indonesia, Indonesia

Haidar Muhammad, Universitas Gadjah Mada, Indonesia

MH Amin Mardhatillah, Universitas Negeri Sebelas Maret, Indonesia

Ratmakan Kampung spreads along the river's edge but the communities in the area avoids Code River as its vulnerability to flood. People build dyke to separate the kampung with the river because of past trauma. They build high walls to search for security as to erase Code River from their existence. Re:Hale concept comes as remedy to human-nature relation between Ratmakan kampung and Code River. The dyke which stands as Code River built environment only provides security, not life. Re:Hale concept integrates flood protection system with public spaces, riverfront, buildings even green spaces to enhance Ratmakan Kampung daily life.

The Breathing Bridge

Chun Hin Jacky Fong, The Chinese University of Hong Kong, Hong Kong SAR

Lok Ka Charlotta Chan, The Chinese University of Hong Kong, Hong Kong SAR

Wai Sum Michelle Ho, The Chinese University of Hong Kong, Hong Kong SAR

Ka Lok Wong, The Chinese University of Hong Kong, Hong Kong SAR

Chuen Fan Lee, The Chinese University of Hong Kong, Hong Kong SAR

Yeuk Ying Ng, The Chinese University of Hong Kong, Hong Kong SAR

Kwok Chi Wong, The Chinese University of Hong Kong, Hong Kong SAR

To save energy, a cantilever steel sidewalk structure is proposed alongside Eastern Corridor, harnessing the mechanical vibration, solar energy or even the wind drift driven by vehicles. The cantilever serves as an amplifier of mechanical vibration, augmented by wind and rain. The vibrational energy is then harvested by piezoelectric crystals on the cantilever. The green wall serves as microbial fuel cells which absorb solar energy. The sidewalk is paved with piezoelectric tiles, which sense the pressure of footstep and transform into light energy. The project seize every opportunity to harvest energy for the streetlight, signage lighting and wifi network.

Unravel - Rethinking the Symmetrical Design of Housing in Hong Kong

Ka Wai Hui, The University of Hong Kong, Hong Kong SAR

Kai Chun Hsu, The University of Hong Kong, Hong Kong SAR

Chun Wai Ng, The University of Hong Kong, Hong Kong SAR

Tsun Hsien Yang, The University of Hong Kong, Hong Kong SAR

Hoi Shan Yu, The University of Hong Kong, Hong Kong SAR

Having the Shun Tai Building in Sai Ying Pun as a precedence to study, we would like to find out whether the generic pencil tower model, which was often symmetrical, was suitable to be widely adopted, as it is now, as a design for residential buildings in Hong Kong. Beyond doubt there was a beauty of efficient use of space, simple structure, and unified units in this design approach. However, in order to provide a more sustainable and habitable living space for the residents, we thought that the context of weather, i.e. solar radiation and wind-flow, should also be taken into account. A focal point of our scheme was to create better cross ventilation within units, and better wind-flow among the core for circulation to encourage people to use the core as a communal space. Another focal point we had was to unravel the thick walls of the stair core and to bring the stability in temperature and humidity it provided to the whole level thus the whole building. The rotation gesture controlled the velocity of the wind-flow and provided better solar radiation protection according to the difference in floor levels.

V4 Housing

Tai Yuan Huang, National Taiwan University of Science and Technology, Taiwan

Zhe Wei Liao, National Taiwan University of Science and Technology, Taiwan

Chiung Jui Chen, National Taiwan University of Science and Technology, Taiwan

Chien Yu Shen, China Medical University, Mainland China

Tao Yun Yang, University of Taipei, Taiwan

Cities become the center of resources and pollution at the same time, vicious cycles only make cities unhealthy, therefore, it is important to redefine the value and the function of the buildings in the city.

"V4" housing was combined with four vertical systems, which are (1) vertical-village, (2) vertical-wetland-system, (3) vertical-waste-food-recycling-system and (4) vertical-air-filter-system. Not only provide more living space for the citizens but also recycle the water, waste food then resubmits to the city area as the clean water and organic fertilizer. Furthermore, it can and also clean the haze and give back the clean air to the city.
E. Jury
Prof. Thomas AUER

Managing Director, Transsolar
Professor, Building Technology and Climate Responsive Design, Technical University of Munich

Thomas is partner and managing director of Transsolar, an engineering firm with offices in Stuttgart, Munich, Paris and New York. He collaborated with world known architecture firms on numerous international design projects. He is a specialist in energy efficiency and environmental quality. Thomas has developed concepts for buildings and districts around the world noted for their innovative strategies. Thomas taught at various universities around the world. Since 2014 he is full Professor at the TU of Munich with a focus in bridging academia and environmental design.

Dr George BAIRD

Emeritus Professor, Building Science, School of Architecture, Victoria University of Wellington

Dr George BAIRD, FCIBSE, FIPENZ, is Emeritus Professor of Building Science at the School of Architecture, Victoria University of Wellington.A Scot by birth, he gained his PhD in Engineering from Glasgow University and attended the National College for HVR&F Engineering in London.

Following six years at the Building Services Research Unit, Glasgow and six at the Architecture School, Aberdeen, he moved to New Zealand in 1975 to help set up the School in Wellington. There, he has specialised in building environmental science and sustainable engineering systems design, building performance generally, and the energy efficient design and operation of buildings.

For current details see http://www.victoria.ac.nz/architecture/staff/george-baird.aspx

Prof. Greg FOLIENTE

Enterprise Professor, University of Melbourne
Regional Director in Asia-Pacific, iiSBE
Founding Director, nBLue Pty Ltd

Prof. Greg FOLIENTE is Enterprise Professor in Sustainable and Resilient Built Environment at the University of Melbourne, the Founding Director of the international consulting practice nBLue Pty Ltd, and the Asia-Pacific Director of the International Initiative for a Sustainable Built Environment (iiSBE). He is also currently a Guest Professor in the EU-based International Master's and PhD Programme in Sustainable Built Environment. For over twenty years, he was Senior Science Leader at CSIRO, Australia's national science agency. He has led a number of successful national and international interdisciplinary research programs, represented Australia in a number of official government "missions", and served as an expert consultant to United Nations agencies (UNEP and UNFCCC), and the Asian Development Bank and the World Bank.

Prof. Peter GUTHRIE

Professor, Engineering for Sustainable Development, University of Cambridge

Peter GUTHRIE was appointed in 2000 as the first Professor in Engineering for Sustainable Development in the UK.

His research is focused on the assessment of large scale projects for sustainability, resilience in infrastructure, energy efficiency in buildings, and sustainability in developing countries.

He has experience of research in the sustainable development of infrastructure in developing countries, including the challenging of the appropriateness of technical standards, issues of waste management, provision of basic services in rural contexts, and the potential for waste materials to be used as materials in construction, and the engineering of earth roads. He has worked with FIDIC (Federation of International Consulting Engineers) to produce a report on sustainability assessment for infrastructure (http://fidic.org/books/state-world-report-2012-sustainable-infrastructure).

Ms Deborah KUH

Head of Greening, Landscape and Tree Management Section, The Government of the Hong Kong Special Administrative Region

Ms. Deborah KUH is an internationally recognised designer, specialising in inter- and trans-disciplinary urban design, master planning, architecture, landscape architecture, interpretation and furniture design projects. She bases her designs on the concept of Place Ecology, focusing on sustainability, connectivity, tactility and respect for diversity of the human condition. Her work spans geographies including Australia and the Middle East. Ms. KUH returned from Australia in 2015 to join the Hong Kong government's Development Bureau where she explores policy opportunities, such as landscape resilience and adaptation, urban forestry and biodiversity in the city, with the aim of promoting a more liveable city.

Ms Christine LOH

Under Secretary for the Environment, The Government of the Hong Kong Special Administrative Region

Ms Christine LOH was the Chief Executive Officer of the non-profit public policy think tank Civic Exchange prior to joining the HKSAR Government in September 2012. Prior to founding Civic Exchange in 2000, Ms LOH had spent nearly a decade as a politician and member of the Legislative Council (1992-97 and 1998-2000).

Before joining the Legislative Council, Ms LOH held senior regional positions in commodities trading, as well as in project negotiation. Having been very active in public affairs since 1980, she had founded or served on boards of a wide range of non-governmental organisations in Hong Kong and overseas concerning a variety of issues including environmental protection, urban planning and design, and equal opportunity. Ms LOH is a lawyer by training.

Prof. Serge SALAT

President, Urban Morphology & Complex Systems Institute

Serge SALAT is an urban planner, a scientist in the science of complexity, an art historian and an internationally recognized architect/artist. He is the founder and President of the Urban Morphology and Complex Systems Institute based in Paris.

Serge SALAT has been seminal in applying the science of complexity to cities. He has authored more than 20 books on art and architecture, as well as more than one hundred publications and communications. He has opened the way in introducing physics far away from the equilibrium, fractals, as well as network analysis and complexity science to a better understanding of cities.

He is a practicing architect and city planner and advises international organizations such as United Nations, The World Bank, AFD (French Agency for Development) and CDC (Caisse des Dépôts et Consignations), on strategic transitions of urbanization in particular in China, where he brings a unique integration of scientific skills, economic, financial and governance competence with his experience of designer of large scale projects to advise on national policies as well as on specific projects. He is one of the authors of the Fifth IPCC assessment report.

Prof. Arno SCHLUETER

Professor, Architecture and Building Systems ETH Zurich
Principal Investigator, Future Cities Laboratory, Singapore ETH Centre

Arno SCHLUETER holds a degree (Dipl.Ing.) in Architecture from the Technical University of Karlsruhe, a postgraduate degree in computational design and a PhD in building systems from ETH Zurich. In 2010, he was appointed Assistant Professor and in 2014 Professor of Architecture and Building Systems (A/S) at the Institute of Technology in Architecture (ITA), ETH Zurich. Since 2013, he is also Principal Investigator at the Singapore-ETH Future Cities Lab (FCL). In his research, he focuses on the integration of energy and indoor environmental systems into buildings and districts using computational approaches and physical prototypes. In 2009, he co-founded the design and engineering office KEOTO.ch, where he is part of the management board.
F. Submission Requirements
Presentation panel:
1 panel in A1 size laid out in landscape format must be digitally submitted in one single file.
The template can be downloaded here.
The panel should include a brief profile of all team members with a 100-word executive summary in English. The summary should describe the key concepts and features relevant to the competition theme and requirements.
File Format and size:
The file must be saved as high resolution PDF capable of being conveniently viewed on a computer screen as well as to be printed out to A1 size for exhibition (300 dpi).
The file must be named under the following logic: WSBE17 Hong Kong_IYC_Entry ID.
Please submit the registration and presentation panel through the online system on or before 21 Dec 2016.
Content:
The content should be sufficient to convey a clear understanding of the Conference theme. The panel could consist of drawings, rendered images, photographs, thumbnails, text or anything entrants find suitable to illustrate their ideas.
Copyright:
All work submitted must be the applicant's original work. It is the applicant's sole responsibility to ensure that the work submitted does not infringe upon the intellectual property rights of any third party, including, but not limited to, copyright, trademark and design rights.
G. Prizes
The jury will perform first round judging to select no more than 10 teams with reasons provided. Shortlisted teams must send at least 1 representative to make a presentation on their proposal during the WSBE17 Hong Kong (5-7 Jun 2017) during final judging. After the presentation, the jury will grant a special award to each team.
All shortlisted teams will:
Display their entry in WSBE17 Hong Kong Exhibition

Present in front of a panel of internationally acclaimed judges

Special award presented by the jury

Cash prize of HK$10,000 and 2 Conference Tickets
Remarks:
Prizes will be presented to shortlisted teams under the condition that the team can send at least 1 representative to attend the Conference and make a presentation during final judging.
Prizes will be presented to the team representative and are to be shared at the discretion of the team members.
The jury's decision shall be final and binding on all entries.
The Competition Organiser reserves the right to use the entries and photos for marketing purposes.
The Competition Organiser reserves the rights to change the rules of the Competition.
H. Competition Timetable
Deadline for submission: 21 Dec 2016

Announcement of shortlisted teams: End of Feb 2017

Presentation of shortlisted teams to the jury, Prize Presentation, Exhibition of shortlisted entries: 5-7 Jun 2017 (Incorporated in the Conference Programme, exact date to be announced)
For any enquiries please contact WSBE17 Hong Kong Secretariat: +852 3468 7175 / competition@wsbe17hongkong.hk